European Commission proposes €100B for next research programme
Horizon Europe is one of the few current EU budget lines to get increase in seven-year proposal.
The European Commission (EC) presented on May 2 its €100 billion proposition for its new research programme, Horizon Europe, which will be running between 2021 and 2027. The figure includes €97.6 billion for Horizon Europe, the EU's flagship research programme, and €2.4 billion for the Euratom nuclear research programme. Such a budget would represent an increase of almost 30% compared to Horizon 2020's €77 billion budget.
The Horizon Europe programme would be one of the few programmes benefitting from a budget increase. Actually, the EC's seven-year proposal foresees in parallel cuts in the two largest EU spending programmes, i.e. the Common Agricultural Policy and the European Structural and Investment Funds (Regional Aid), down 5 and 7% respectively.
EU research officials say they are very satisfied with the Horizon Europe increase, even if it is less than the €120 billion asked for by the European Parliament, and the €160 billion hoped for by lobbyists.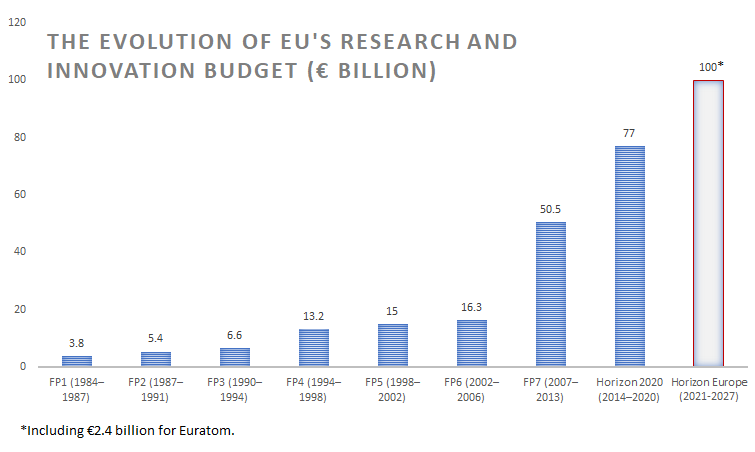 Other budget lines going up are the Erasmus+ student exchange programme (doubling, to reach €30 billion) and defense-related research (going from €90 million to €4.1 billion).
Even if it is less than asked for by the European Parliament (€120 billion), EC's proposal for Horizon Europe remains impressive, given that the UK – one of the biggest contributors to the EU budget (around €15 billion) is for the time being no longer contributing to such a budget, and that the official proposal discussed end of April hardly reached €85 billion. This figure could even grow if the UK and non-EU countries such as Israel, Norway and Switzerland decide to join the programme again and to contribute to its budget.
However, reaching an agreement over EC's proposal will require months of negotiation and scrutiny at European level, as the proposal will need to be approved unanimously by EU members, and will need to be endorsed by the European Parliament. The final adoption of the proposal is not expected before the summer of 2019.
Reference: ScienceBusiness
Don't miss any of our R&D calls.
Subscribe you to our newsletter and we will keep you updated to the latest news
You may also be interested in:
DigiFed opens its third call for applications to boost the adoption of advanced digital technologies for European SMEs focused on non-digital businesses. 
In 2021 it will be 35 years since this company began to walk the path of innovation together with companies, technology centres, universities and public administrations. Join us in the digital space that we have dedicated to this anniversary, we are waiting for you!
We continue with France the series of weekly articles entitled 'How do European countries channel NEXT GENERATION EU opportunities?' Written by Daniel García, director of the offices in Extremadura and Andalusia (Spain) and expert in European innovation programmes.