NEARLY €2 BILLION EU INVESTMENT IN EUROPE'S TOP RESEARCHERS: ERC PRE-ANNOUNCES ITS 2018 GRANT COMPETITIONS
European Research Council (ERC) has pre-announced its 2018 Work Programme and grant competitions with a total budget of €1.86 billion.
One of the programme's new elements is the reintroduction of Synergy Grants, the funding scheme for groups of two to four scientists who can jointly address ambitious research problems. Both the ERC Starting Grants and Synergy Grants calls are set to open on 3 August. Other grant competitions will be launched according to the indicative calendar: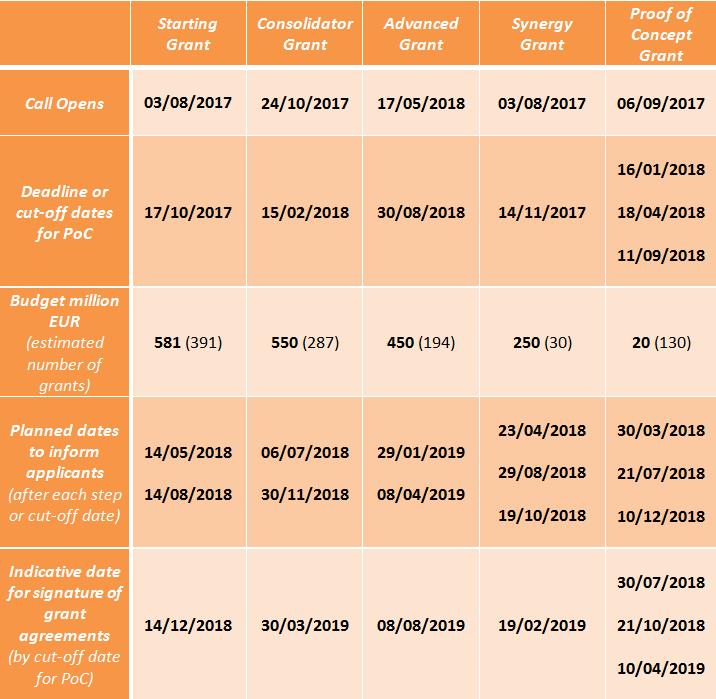 The document is made public before its official adoption to provide potential applicants with the currently expected main lines of the Work Programme 2018. The adoption and the publication of the Work Programme by the European Commission are expected on 3 August 2017 (indicative date). Only the adopted work programme will have legal value.
More information on erc.europa.eu
Don't miss any of our R&D calls.
Suscribe you to our newsletter and we will keep you updated to the latest news
You may also be interested in:
2019 is a new milestone for ZABALA in energy, building upon a strong reputation and experience acquired in the ETP Smartgrids and ETIP SNET as well as many other EU projects, ZABALA is taking part to 3 new ones: Hydropower Europe, Smartspend and Batteries Europe.
SMARTSPEND project aims for more and better designed public support for energy technology Research & Innovation
The new European Technology and Innovation Platform on Batteries has just launched. Bringing together private and public actors and industrial and research stakeholders throughout the whole value chain of the sector, its aim is to be the driving force behind Europe's ambitions in the field of batteries.